This is the Part 2/2 of the Review Portal Tutorial. This Article covers ways to utilize the Review Portal Features. At this point, everything is configured in the Review Portal. Please visit part 1 before this tutorial.
Advocate Reviews
From Advocate reviews, this is a great view of all of your reviews entered through the App.

From this view, you can
View the Date the review was entered
The Advocate Name
The Sales Rep associated with the Advocate
The Star Rating of the Reviewer
The Unsatisfactory Response
💡Important Note: When an Advocate enters a star rating below your Threshold, they will have an option to leave a message.
If the Advocate leaves a positive star rating above that threshold, the section will be skipped and move to the Review sites you have available
Reviews Posted *Should we change to Review Websites visited* Renamed to Visited Review Sites

Once a customer enters this section, the app will track which websites they will have clicked on.
💡 Important Note: Admins do not have visibility from here whether or not they actually left a review, Admins only know that the customer clicked on the link to a particular review page.
Reply Section

Admins can Either send an Email or a Push Notification
Emailing Advocates
You can either send an email to the advocate in response to the review, by either Composing a custom email (which you can also save as a template!)
To send an email, you can either
Bulk select a list of Advocates with a checkmark box
Individually send email

Select the small email logo on the right column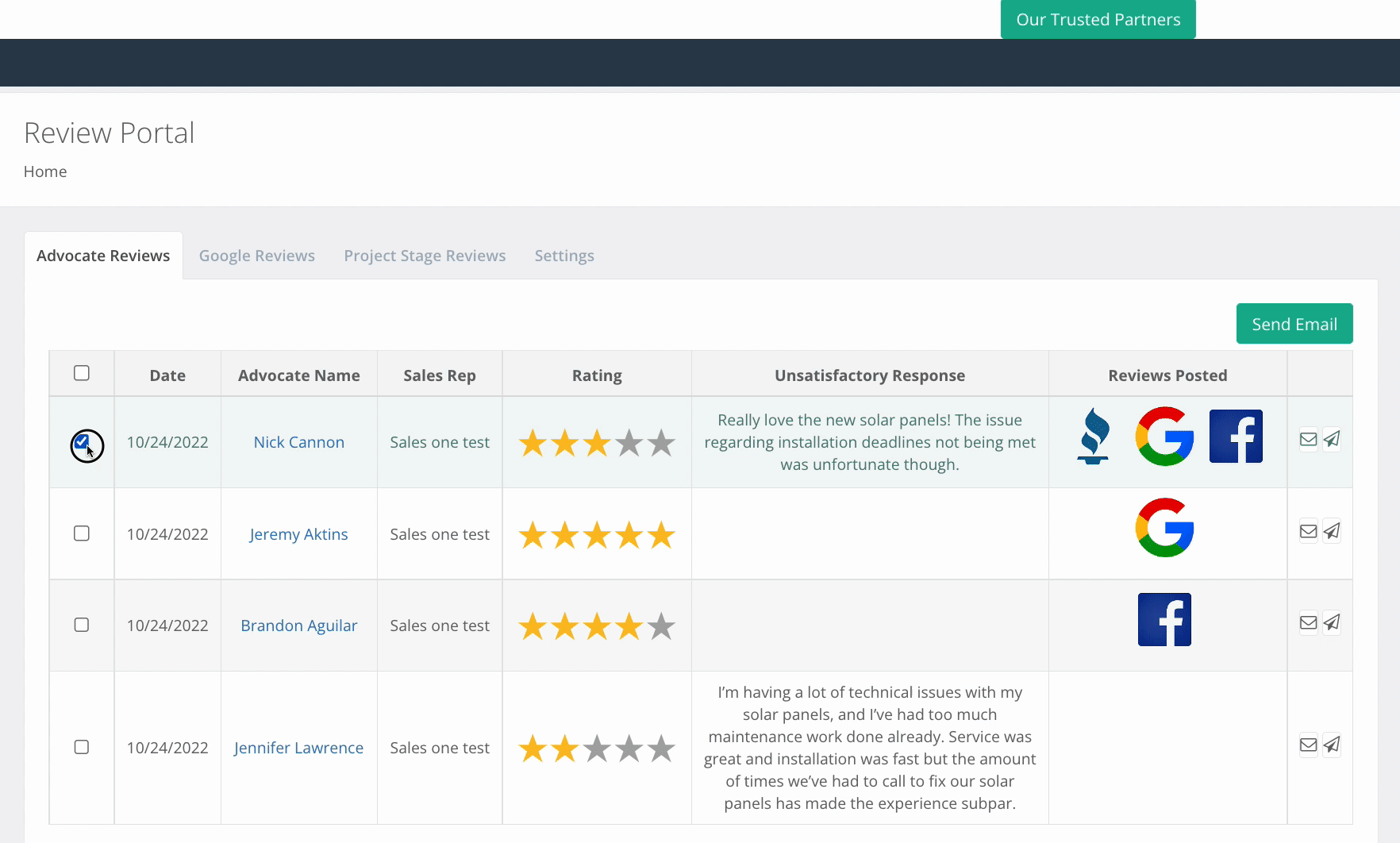 Manually Send Push Notification
You can either send a custom push notification or select a project stage template


Select the small paper airplane logo on the right column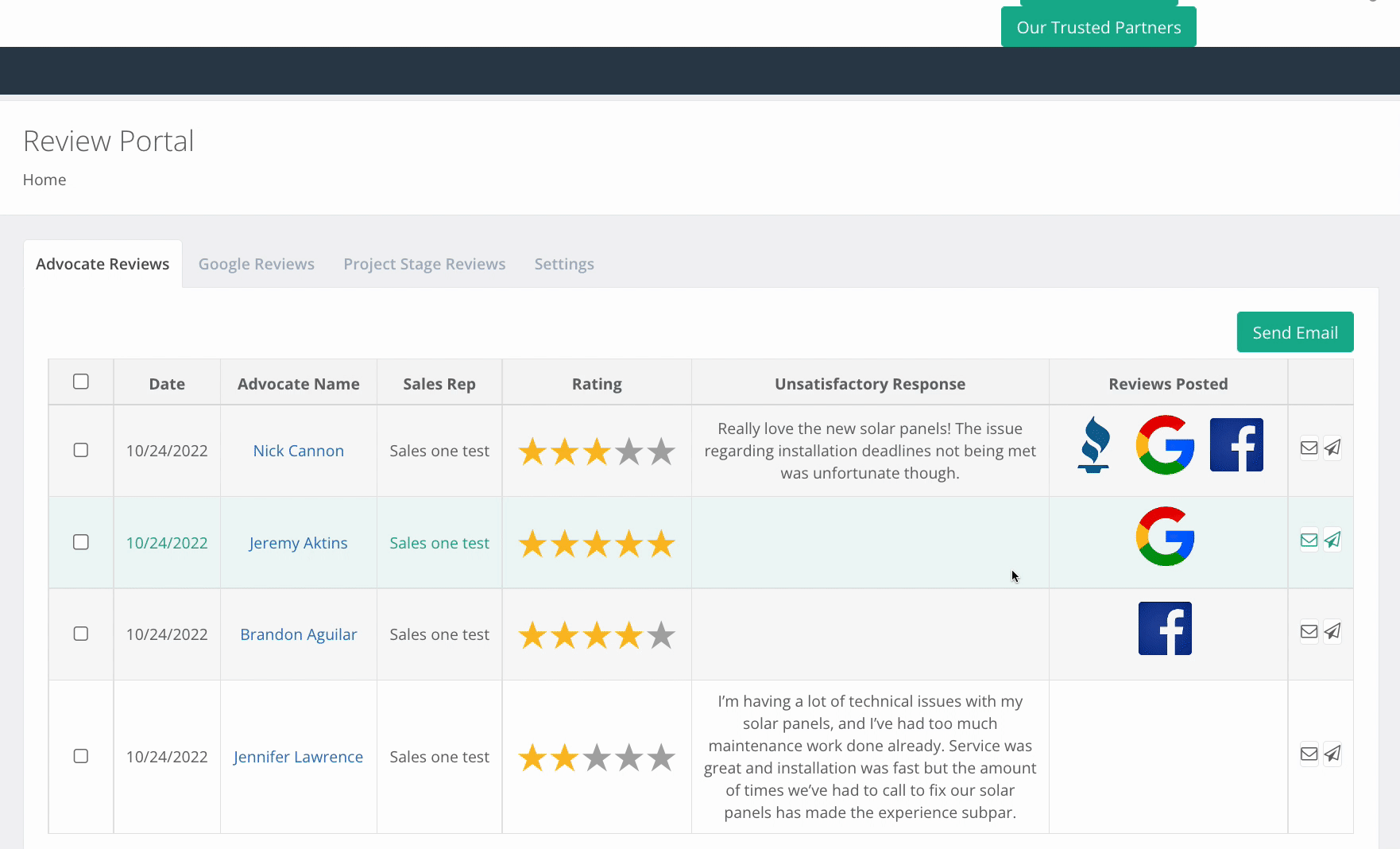 ⭐ Pro Tip: Since your project stages have been set to send to Advocates automatically, this should be used when you want to send the Advocate an additional email or push notification.
Deleting Reviews
Admins can delete reviews by selecting one or more companies with the checkbox, then selecting the trash icon

Google Reviews
Location: Review Portal > Google Reviews
The Google Review Portal is a great tool to monitor and respond to reviews left on your Company's Google Page.
From this view, you can view
Date Review was posted
Name of reviewer
Number of stars given (1-5)
Reviewers Comment
Ability to respond to the review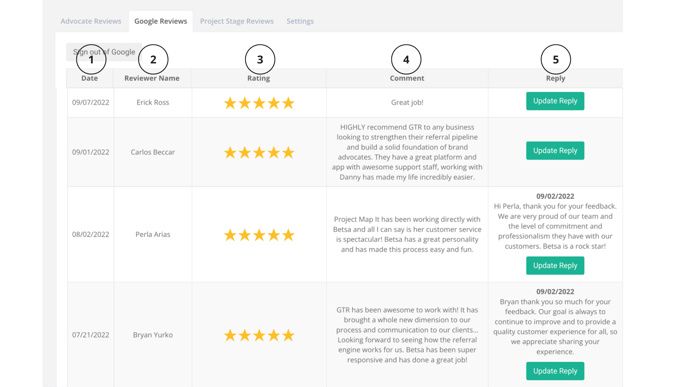 Update Reply
Update Reply button is a tool to
Post Reply on Google
Update Reply on Google

Even if a post has already been made, an Admin can still update the original reply